« Back to news list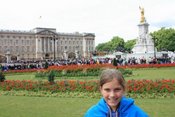 Clara Parker
Posted On: Thursday, December 01, 2011
Clara was invited to become a Student Ambassador last year. She went through an interview process and had to have references from several people in the community. Her trip was "A Tale of Two Cities" and included visits to France and England for a two week period in the summer. They met monthly in Memphis so the kids could get to know each other. Each month they had assignments to complete about the history and culture of each place they visited and they were required to journal during this time as well. They left for France on July 3rd arriving in Paris on the 4th. The first stop was for a mini French language lesson! They followed that with a walking tour of downtown including many of the most prestigious monuments including Notre Dame. The next day was the Eiffel Tower, Place de la Concords, Champs Elysees and the Arc de Triumphe. She finally understood why her Mom laughs at people in our little round-about when she saw the size of that one!! The next day included a visit to the Louvre and a peak at the Mona Lisa along with so many other wonderful works of art. They left there and went to Montmartre and Le Sacre Coeur. Clara had spent the summer she turned 1 in Paris with her Mom's sister and her girls and an artist in Montmartre painted a portrait of her. She was able to find the place where she sat for that! They also took an art course there and brought home their own masterpiece! Next up was a visit to Disneyland Paris - needless to say, one of the highlights for the kids! The following day they visited Caen and the Chateau de Versailles. She said the gardens were incredible at the Hall of Mirrors. One of the things she loved most was their visit to Normandy and the American Cemetery overlooking Omaha Beach. Her grandfather was a D-Day survivor and this was so meaningful for her. She brought home a bag of sand from the beach. This ended their time in France, as they boarded an overnight ferry to England. First up was Swindon England and a journey to the historic city of Winchester and it's great hall - legendary home of King Arthur and the Knights of the Round Table. They also visited Stonehenge, dating back to 3000 BC, later that day. The next morning they set out for an outdoor adventure center and had a blast! After this they visited the city of Bath and the historic Royal Baths discovered by Celtic King Bladud in 860 BC. Warwick Castle was the next day and another highlight of the trip. They learned to fence and joust and fired the trebuchet (catapult), loving every minute of it! They also dined on a medieval feast. They went punting (propelling a flat bottom boat with poles) through Christ Church meadows where Lewis Carroll wrote Alice Through the Looking Glass. Later they toured Oxford University, founded in 1167. The next day Clara was excited beyond measure - they were doing a theatre workshop with the guy who trained Daniel Radcliff (Harry Potter) in Shakespeare's Theatre. This day ended with a trip to the Cabinet War Room where Sir Winston Churchill met underground during the war. A member of Parliament met with them here. Another fun day next as they went to spend the day with another youth in their school. Each were paired up with a local boy or girl and followed them throughout the day - they loved this as well! Later that night they all went to see Wicked! Next up was Buckingham Palace and the Changing of the Guard followed by a banquet with King Henry the VIII! Later that day a tour of London including the Tower of London, the Yeoman Warders "Beefeaters, a cruise of the River Thames and a thrilling ride on the London Eye, the largest ferris wheel in the world at 443 feet. This ended their trip and they returned to the US on July 16th. It was an incredible experience for all of these bright kids and Clara is looking forward to another People to People trip this summer where she will be a student ambassador in Western Canada. This trip includes whale watching, glacier trekking, making a teepee and sleeping in it and much more!
Thank you Clara for representing Corinth Middle School with such Pride, Integrity, and Knowledge.
Click here to view photos from Clara's trip!