Back-to-School Events
Mon., Aug. 3: 5th Grade Open House at CMS, 6-7:30pm
Thurs., Aug. 6: 6th Grade Open House at CMS, 6-7:30pm
Mon.-Wed., Aug. 10-12: Staff Development
Mon., Aug. 10: 9th Grade Schedules Pickup at CHS, 6-7pm
Mon., Aug. 10: 7th Grade Open House at CMS, 6-7:30pm
Tues., Aug. 11: 10th, 11th, & 12th Grade Schedules Pickup at CHS, 6-7pm
Tues., Aug. 11: 8th Grade Open House at CMS, 6-7:30pm
Tues., Aug. 11: Meet the Teacher at CES (All grades), 5-7pm
Thurs., Aug. 13: First Day of School
---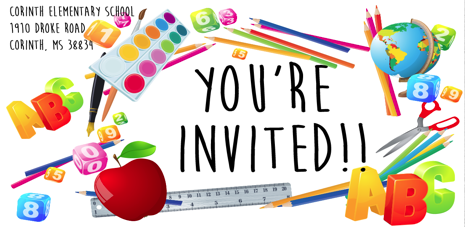 ---
ABC Fiesta Fun Camp
The Junior Auxiliary is pairing with Corinth Elementary School during Kindergarten and Pre-K camps to provide additional learning experiences for ELL (English Language Learners) students of Corinth Elementary School. Your child must be registered at Corinth Elementary School to be able to participate in this camp.
YOU ARE INVITED
For: Kindergarten and Pre-K ELL students registered at CES
When: Tuesday, July 28th ; Wednesday, July 29th; Thursday, July 30th
Time: 12:00 pm to 2:00 pm (directly after day camp)
Parents are responsible for transportation to camp at 9am and dismissal from ABC Fiesta camp at 2pm. Lunch will be provided in between the camps.

ABC Fiesta Fun Campamento
El junior auxiliar se pelar con la Escuela Primaria Corinth durante los campamentos de jardín de infancia y Pre - K para proporcionar experiencias de aprendizaje adicionales para Aprendices del Idioma Inglés estudiantes de la Escuela Primaria Corinth. Su hijo debe estar registrado en la Escuela Primaria Corinth para poder participar en este campamento.
USTED ESTÁ INVITIED
Por : Niños y niñas de jardín de infantes y Prek-K registrado en el la Escuela
Cuándo: Martes, 28 de julio ; Miércoles, 29 de julio ; Jueves, 30 de julio
Hora: 12:00pm-2:00pm ( directamente después de campamento de día )
Los padres son responsables del transporte al campamento a las 9 am y la destitución del campamento ABC Fiesta a las 2pm. El almuerzo será proporcionado en el medio de los campos.
---
Rising 7th Graders
You need to have a TDAP Vaccination
---

---
Show Choir
There will be another audition day for the new Show Choir on August 11th at 4:30.
You can pick up packets in the CHS office.
This is open to all students; you do not have to be in chorus to try out.
---
Click Here to Download Forms for Registration!