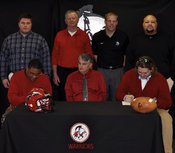 back row, l-r: Corey Hastings, Chris Coleman (athletic director), Doug Jones, and William Stewart; front row, l-r: Deonta Williams, Dane Aube' (CHS principal), and JR Burns
View more pictures
On February 4, two Corinth High School seniors signed football scholarships with Mississippi community colleges.
JR Burns, the son of Robert and Christy Burns, signed a football scholarship with Northwest MS Community College. JR played center for the Warriors and is expected to play center as he continues at Northwest.
Deonta Williams, the son of Justin and Constance Williams, signed a scholarship with Coahoma Community College. Deonta played on the Warriors' defensive line and will either play that position or as an inside linebacker with Coahoma.
According to Warriors football coach Doug Jones, "Both of these guys did an outstanding job of working hard in the off-season and putting themselves in the position to have the opportunity to play at the next level and get their education paid for. We are very proud of their accomplishments and look forward to their continued success." The Corinth School District wishes them both well in their academic and athletic endeavors. Congratulations JR and Deonta!